University College Groningen is opgericht in 2014 als een selectieve en onafhankelijke Liberal Arts and Sciences Faculteit binnen de Rijksuniversiteit Groningen. Studenten onderzoeken hun interesses en ambities door middel van een interdisciplinaire, projectmatige en gemeenschapsgerichte leeromgeving. Het onderwijs bij UCG is interactief en kleinschalig met gemiddeld 17 studenten per klas.
University College Groningen (UCG) offers a 3-year bachelor programme, including guaranteed housing, which will provide students with an education that gives them an interdisciplinary outlook, freedom of choice and a collaborative and guided approach to learning. Together with their academic advisor, students design their own programme by choosing out of a broad range of courses in three major disciplines: Sciences, Social Sciences and Humanities. Students can explore up to a full year before declaring a Major focus. UCG gives you the opportunity to pursue a double degree programme with Ca' Foscari University in Venice.
Students have the opportunity to live and study together for all three years. This residential concept ensures for a close-knit community in the city centre of Groningen.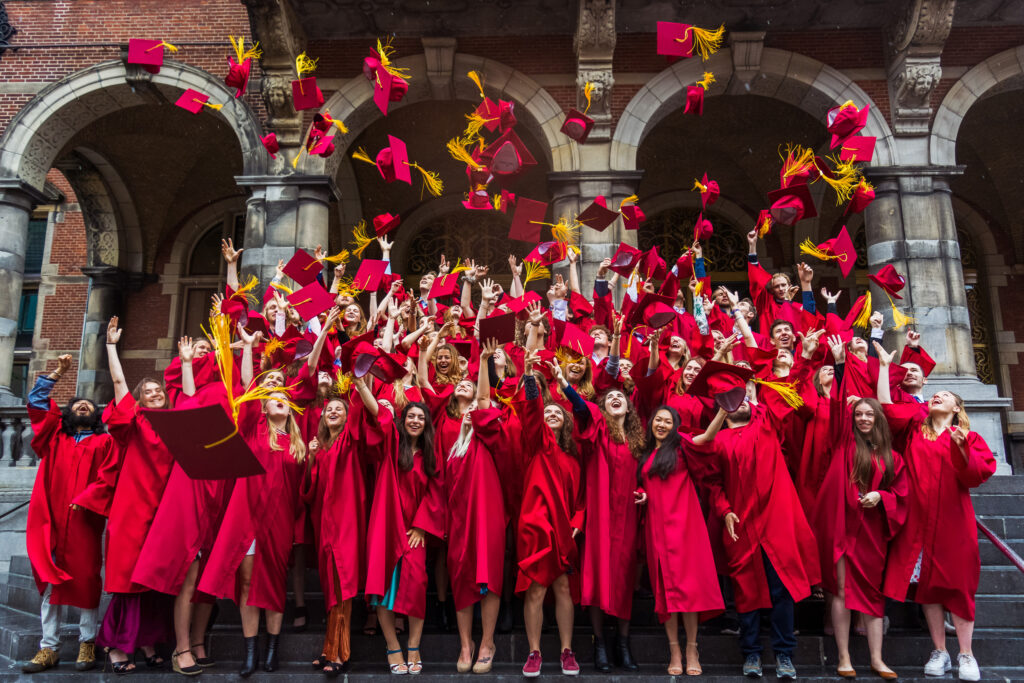 The first year introduces you to a wide range of academic disciplines. You will explore the Sciences, Social Sciences and the Humanities without having to declare your preferred major. In the second and third year, you may declare a Major orientation, customising your degree to fulfil your academic ambitions. If you want even more freedom in designing your own programme, you can pursue a Free Major. 
Alongside the Major, we offer a core programme that covers research methods, academic skills and long-term projects. You have the opportunity to apply your academic knowledge in other areas, developing new solutions to real-world problems, while collaborating with students from all over the world as part of an active and engaged learning community. 
Every major offers numerous courses that you can freely combine centred around your own academic interests and ambitions. To offer some more guidance in this process, UCG has combined a number of courses into tracks that highlight UCG's academic expertise.
Smart Technologies
Mind, Machines and Morality
Health & Life Sciences
 Mind and behaviour
 Philosophy, Politics and Economics
 International Relations and International Law
 International Business and Entrepreneurship
Social and Cultural Change
Truth, Meaning and Rationality
Transcend disciplinary boundaries and create your own programme by combining courses from the Humanities, Sciences and/or Social Sciences.
UCG has a selective admissions process. Students need to send in a motivation video, grades lists and a CV. Each year we select 150 students with rolling admission (meaning students can claim their space as soon as they demonstrate the admission requirements have been met). We accept applications all year round.
To be eligible for admission you need to meet the following requirements:
Een middelbare school diploma gelijkwaardig aan het Nederlandse VWO diploma (bijvoorbeeld het International Baccalaureate, de Britse A-levels of SAT scores).
Beheersing van de Engelse taal
Ga voor meer informatie naar onze website:
Deadlines voor aanmelding
Applicants wishing to start in the Fall semester can apply by:
Early Bird: 15 January
Final deadline: 1 May
EU/EEA students: €5,017 (2024/2025)
Non-EU/EEA students: €16,700 (2024/2025)
University College Groningen
Marieke Sipkes
Hoendiepskade 23-24
9718 BG Groningen
Nederland
www.rug.nl/ucg
ucg@rug.nl
+31 (0)50 363 35 12