Is a University College the right fit for you?
Everything you need to know about University Colleges in the Netherlands: International, small-scaled, multidisciplinary, challenging
What is a University College?
University Colleges were introduced to the Netherlands in 1997, taking inspiration from both the Liberal Arts and Sciences programmes in the United States, with a strong emphasis on student community, as well as from the college structure found at institutions such as Oxford University in the United Kingdom. 
Dutch research universities established their University Colleges in response to a growing demand for a more holistic type of education. Students at University Colleges would not only study Liberal Arts and Sciences, they would live them, quite literally, by studying, living and working together with students from different cultural backgrounds and different disciplinary interests. 
This unique melting pot creates a learning environment which helps students develop their talents and discover themselves and the world through an exciting and challenging journey. 
The creators were inspired to shape a small-scale learning environment, where both faculty and students would feel part of and contribute to the community. They succeeded; at a University College, you will study and work together with students from different cultural backgrounds and different academic interests. Many University Colleges in the Netherlands offer on-campus housing while at some University Colleges, students live in regular student housing in the city centre.
Because of its intensive programme and broad approach, a Liberal Arts and Sciences education prepares you for a wide range of postgraduate programmes and jobs across many industries:
89% of alumni continue with postgraduate education
30% of alumni enter a master's programme at one of the top 100 universities in the world (Times Higher Education ranking)
72% of alumni are accepted into their first-choice programme
11% of alumni entered the labour market directly after finishing their bachelor's degree, often as entrepreneurs.
For more information about career prospects and alumni stories, we encourage you to explore the websites of the individual University Colleges.
* Source: Liberal Arts and Sciences programmes alumni survey factsheet 2017 Research Centre for Education and the Labour Market | ROA
As the university colleges offer an honours programme, the application procedure is selective. University Colleges have a holistic approach to admissions: when assessing your application both the academic fit as well as the fit for the community are evaluated. In your application, we will ask you to upload a grade transcript and motivation letter. In some cases you may be asked to submit a recommendation letter or essay, and take part in an interview.
You are eligible to apply for a Liberal Arts and Sciences programme with a Dutch VWO-diploma or an international equivalent, such as an IB diploma, British A-levels, or the French Baccalauréat. All VWO-profiles are accepted. Some University Colleges may have specific grade requirements for mathematics, English or other subjects.
The application deadlines are usually much earlier than other Dutch bachelor's programmes. Please check the admissions requirements, deadlines and further details about each University College by clicking on the menu items above.
Liberal Arts and Sciences
In the Netherlands there are several University Colleges offering an English-taught bachelor's programme in Liberal Arts and Sciences (LAS). Every University College in the Netherlands is a part of a research university and offers a selective and challenging honours programme for highly motivated students. This programme allows you to shape your own curriculum by combining courses from various disciplines, including the humanities, sciences, social sciences and engineering. The multi- and interdisciplinary approach allows you to explore your academic curiosities and develop a deeper understanding of whichever field you may be interested in, preparing you for a fast-changing future.
You have the freedom to shape your curriculum by combining different academic fields
The core of the University College is a multi-and interdisciplinary approach.
Classes are small (12-28 students in a class) and participation is actively encouraged.
There is an inspiring student community that motivates students to engage in extracurricular activities.
Both the student and staff population are international and diverse.
All students receive personal guidance by an academic advisor.
There are resources and support services (for example focusing on health, wellbeing, academic skills and future careers) to help you throughout your studies.
You engage in an intensive programme with an average of up to 40-45 hours of work per week (class hours, self-study, group work).
You gain a range of soft-skills; debating, public speaking, Problem solving (attitude), adaptability, argumentation skills, presentation skills, social skills and intercultural communication skills.
Are you the right student for a University College?
University Colleges are designed for highly motivated students who are interested in a wide range of subjects, and do not want to limit themselves to the perspective of one academic discipline.  They are academically strong, intellectually curious and intrinsically motivated. Our students have a desire for both intellectual challenge and personal growth and are interested in getting socially involved and contributing to the student community. University College students are open-minded and excited to join a community of international peers and learn from exchanges with various cultures.
In short: are you a multi-talented student who finds education in a single discipline a bit too narrow? Would you like to shape your own study experience, and make a difference in the world? Then Liberal Arts and Sciences at one of the University Colleges in the Netherlands might be the right choice for you!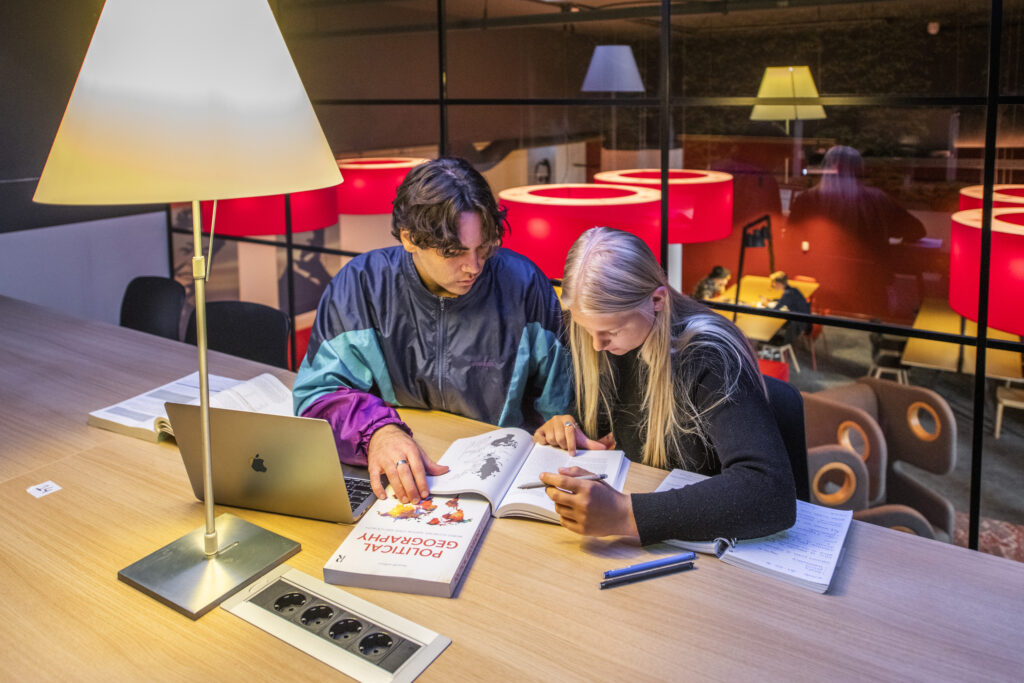 picture: © Boaz Timmermans/Fos Fotografie for University College Roosevelt